About Royal Sundarban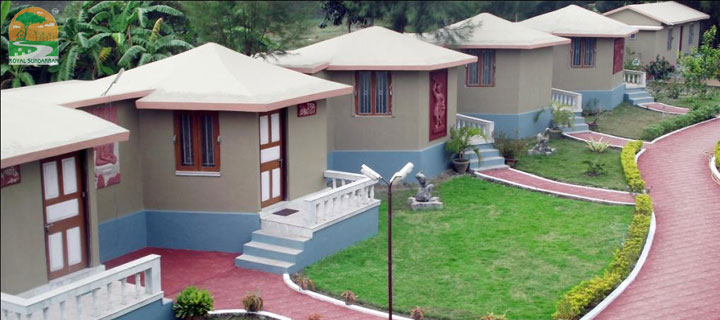 Welcome to Our Site
Royal Sunderban Wild Resort in Jharkhali Island in the best location closest to the forest core area to spend an ideal tine amidst nature for a couple of days. It has cottages for accommodation with the most modern amenities with 35 guests. The balconies in the cottage allow a clear view of the water body and the garden. The Royal Sunderban Wild Resort is an unique destination just beside a large sweet water lake which is the home for migratory birds during winter months. Tourists can reach Sunderbans on fixed departure dates or any day as per the choice of tourists.
The Royal Bengal Tiger
The Sunderbans support one of the largest populations of Royal Bengal Tiger. These man-eaters who have often been the harbingers of death in these parts also at the same time give the place its fundamental character of existence. However recent years have witnessed sharp decline in their numbers. In August 2004 there were in total approximately 256 individuals in Sunderban which in the current year (2013) have been estimated to be only 103. The predominant reasons behind this drastic downfall are poachers and an acute scarcity of food. However recently another significant reason behind this decline has been brought to notice by the research conducted by scientists at the Cardiff University, UK. According to them the absence of enough genetic variation among tigers is the real culprit. Only 7% of the numerous genetic variations that could be found among tigers even hundred years ago are found to exist now. The absence of enough genetic variations, have strongly affected their mutation, adaptation and their hunting techniques. Genetic variation determines the chances of any species to exist on this planet. Those species who display the maximum diversity in genetic variation have better of existing that the others. In case of tigers this signifies them as being in the way of extinction.
SUNDARBAN "THE BEAUTIFUL JUNGLE"
The Sundarban is a part of the world's largest delta, formed by the river Ganga, Brahmaputra and Meghna. It is one of the most attractive and alluring places remaining on earth. The name can be literally translated as "beautiful jungle. " The name may have been derived from the Sundari trees that are found in the Sunderbans.
The Sunderbans is a UNESCO World Heritage Site. It spans a vast area covering 4,264 sq.km. in India alone. These forests, providing home to the largest number of tigers in the world, are also home to a variety of fauna including the largest deltaic crocodiles, dolphins, the king cobra, lizards, pythons, olive redley, checkered killback gangetic gharial(alligator),giant turtle and deer, and a variety of resident and migratory birds including heron, egret, cormorant, fishing eagle, seagull, kingfisher, whimbrel, black-tailed godwit, little stint, eastern knot, curlew, sandpi9per, golden plover, printail and whistling teal etc.